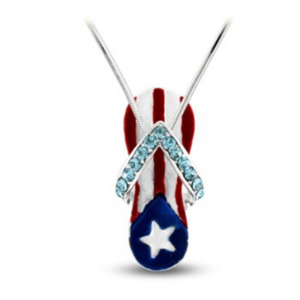 Puerto Rico Flag Sandal Pendant
Get the Puerto Rico flag sandal and show your island spirit. The Puerto Rican flag has been set onto a sandal necklace pendant with sterling silver overlay and a blue crystal strap. 
The flip-flop themed flag necklace will bring you back to thinking of the blue skies, peaceful breezes, and coastal waters. Hold Puerto Rico close to your heart with a sandal pendant that is a true boricua favorite.