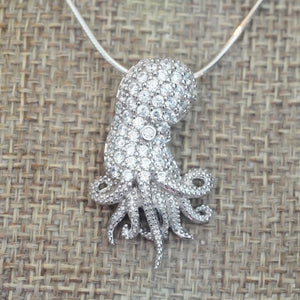 Silver Crystal Octopus Pendant
This stunning 3D octopus necklace is the statement piece for the deep sea lover. The necklace is encrusted with clear pave crystals to make it truly sparkle. The necklace will beckon you back to the sea with it's details and beauty, like the octopus staring you down with his intense gaze. 
These pave crusted octopus necklaces have to be seen to be appreciated, the detail is phenomenal.